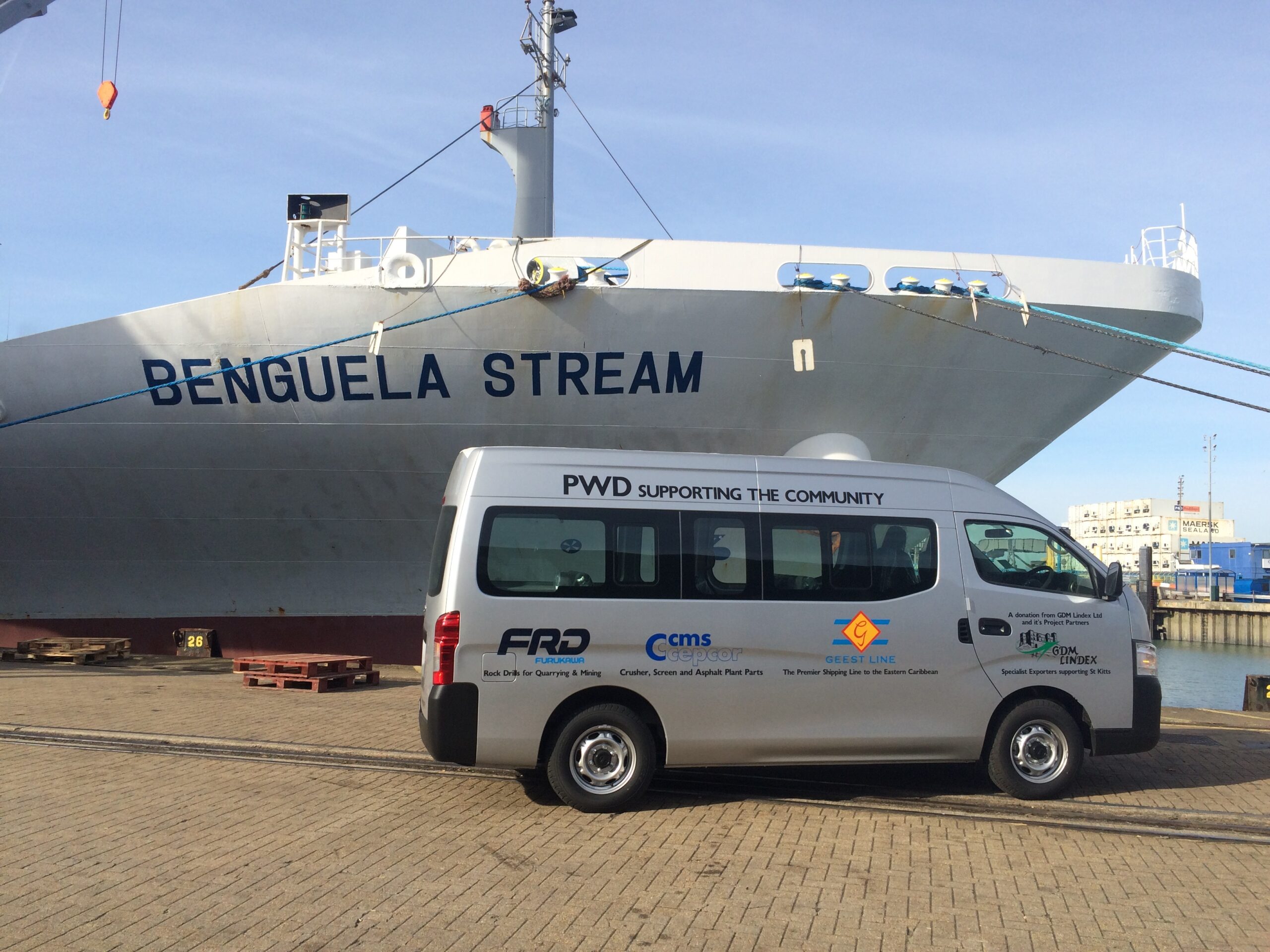 Geest Line are proud to have shipped a Nissan Urvan Microbus 15 to St Kitts to provide transport for staff of the Public Works Department, which continues to do impressive work in the community of St Kitts.
GDM Lindex Ltd was approached by Ms. Bernier of the Public Works Department in St Kitts to sponsor them in providing transport for their workers. GDM Lindex Ltd has been involved with the PWD in St Kitts since 1983 and were only too happy to assist. The obvious shipper of choice was Geest Line, who have been shipping to the Caribbean for GDM Lindex Ltd since 1980. The minibus was loaded in Portsmouth and will arrive in St Kitts on 30th March 2016.
Other companies which have supported the provision of this important transport are FRD Furukawa and CMS Cepcor.
NEWS FLASH     ** GEEST TO CALL GUADELOUPE, FRENCH WEST INDIES **   NEWS FLASH
Geest Line – The premier shipping line to the Eastern Caribbean, are pleased to announce their expansion into Guadeloupe in the French West Indies (FWI) with a direct weekly call to Pointe-à-Pitre commencing April 2016.
Kevin Cool Commercial Manager of Geest Line commented "This is Geest Line's response to the growing demand from the trade for the requirement for high quality, direct and dedicated services to the main destinations within the Eastern Caribbean region. Geest has a long and respected tradition within this region, however we do not sit on our laurels as we consistently explore opportunities to expand the Geest product and service offering to our existing and potential clients. We offer a personalised logistical solution, backed with decades of experience and built upon an established and trusted network of professional agents throughout the region."
The dedicated direct service commences from Portsmouth (UK) each Tuesday and Le Havre (France) each Wednesday connecting both not only direct with Guadeloupe but also to:
Antigua
Barbados
Dominica
Dominican Republic
Grenada
Guadeloupe (new April 2016)
Martinique
Puerto Rico
St Lucia
St Kitts
St Vincent
Trinidad
With the fastest direct crossings and arrival at Pointe-à-Pitre in ten (10) ex UK and nine (9) days ex France. Geest Line offers multiple container options which briefly comprise of 10', 20' & 40' reefer, dry, open top and flat rack units available to carry a myriad of cargo types including general/reefer, hazardous cargoes and live vehicles under deck.
Commenting on the announcement Peter Dixon, Managing Director of Geest Line stated
"There has been a requirement from the trade for some time that Geest would extend its Fast and Reliable service to include a weekly call in Guadeloupe. We are therefore now pleased that we can provide this new service to Guadeloupe, in addition to maintaining our regular service to Martinique. The company is also considering its position in serving other ports within the Caribbean given changing market conditions"
For more information, service details and rates please contact us:
UK:                                      +44 1489 873 511           [email protected]
FRANCE:                             +33 235 191 794  [email protected]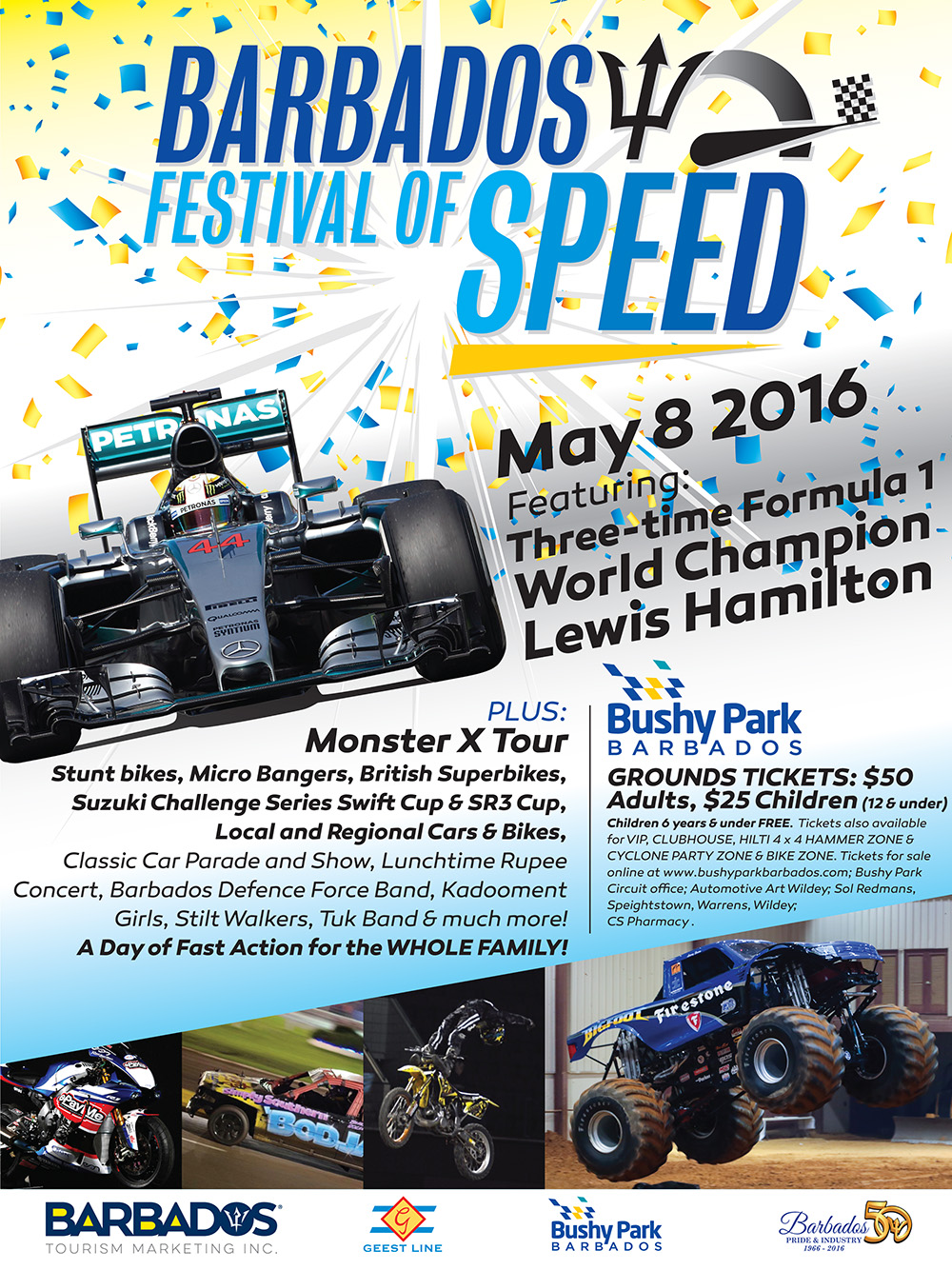 For the second time in the event's history Geest Line is very proud to announce our sponsorship of the Barbados Festival of Speed. Why not come and join in May 8 2016.