Geest Line provides reliability for its customers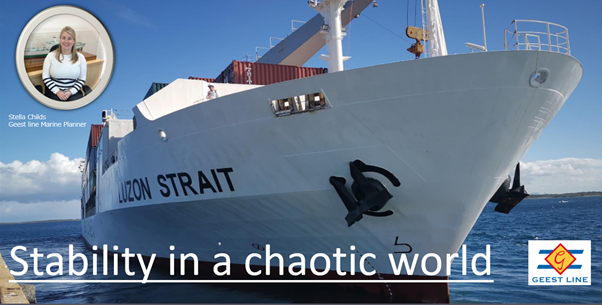 During what has been a chaotic year in shipping, Geest Line has maintained an impressive record for reliability. Geest Line has this week published year to date 100% on day reliability westbound from The Netherlands and the UK to the Caribbean Islands. This compares favorably to the Sea-Intelligence August Global liner report, which shows container line reliability at 33.6% on time, the lowest for over a decade.
Geest line have been shipping essential cargo westbound to the Caribbean Islands for over 65 years. The Islands anecdotally "set their watch" by the arrival of the distinctive Geest Line Vessels and with the shipping world in meltdown Geest Line continues to deliver. General freight manager Richard Stapleton said "Providing our weekly service from Flushing and Portsmouth ensures the Islands receive regular stocks of essential supplies. We ship all manner of commodities from dairy products for the supermarkets, to Bulldozers for construction projects. Our customers are relying on us, and we have not let them down".
Serving the Caribbean Islands is not all plain sailing though. With hurricane season and Island lockdowns due to Covid-19, Geest Line has worked tirelessly to ensure we maintain our schedule. Geest Line Marine planning expert Stella Childs said, "meticulous planning and understanding the trade lane allows us to work closely with the vessel captains and the Island ports to mitigate any obstacles, resulting in on time berthing in the Islands".
Once the cargo is discharged our vessels are used to bring back bananas, which is probably what we are most famous for. Geest Line bring on average 28 million bananas every week for distribution throughout the UK and Europe.
Geest Line are keen to avoid complacency and continue to deliver an excellent service even through the seasonal peaks. Such is demand for space on the vessel westbound to the Islands, Geest Line have been advising its customers to book early to avoid disappointment. "We are expecting a busy run up to Christmas with global travel restrictions being relaxed and the Islands starting to slowly reopen. Booking early ensures space on the vessel and cargo arrives in good time to for the festivities", says Debbie Taylor UK sales executive for Geest line.
Geest Line ship to Barbados, Grenada, St Vincent, St Lucia, Dominica, Antigua, St Kitts, Curacao, and the Dominican Republic direct from The Netherlands and the UK. For a quote or simply more information on our services call our dedicated UK based customer service team on 01489 873500, or email us at [email protected] or visit our website www.geestline.com, it will be our pleasure to help you.
Geest Line once again assisted the Rotary Club Winchester with a pallet of much needed equipment for supporting the amputees in St Lucia. (more…)
Geest Line once again took part in the annual charity go-karting event organised by GDM Lindex, this year supporting Rainbows Children's Hospice.  A fiercely competitive field of 25 teams took part in the 100-minute endurance race, raising £2745 in the process for Rainbows.
The Geest Line team qualified on pole position but ended up down in sixth place after a tough opening lap.  Battling hard through the field, the team eventually made it onto the podium with a well-deserved third place finish.
Geest Line recently shipped on behalf of the Rotary Club Winchester and the Rotary Club of Gros Islet St Lucia, two pallets of cargoes to help severely disadvantaged children of St Lucia. Geest Line was very proud to play a small role shipping the items free of charge for such a deserving cause. Please click here to read the detailed report.
Once again the staff at Geest Line were out in force to support the annual Macmillan Coffee morning. Some made cakes, some bought cakes, some just ate cakes. However all took part and more importantly put their hands in their pockets, making a very commendable £208.70. Well done to all for supporting such a worthy cause.
This September Geest Line again proudly supported the annual GDM Lindex charity karting event which helped raise £2600 for the charity Debra UK.  Debra is a national charity supporting individuals and families affected by Epidermolysis Bullosa (EB) – a painful genetic skin blistering condition.
The 100 minute endurance race was again held at the PF International Kart Circuit in Lincolnshire, with a grid of 22 teams all competing for honours.  Nick Barker, IT Manager at Geest Line, along with brother Andy battled back to a podium finish after a difficult start.  The best-ever result saw Geest Line again finish ahead of fellow industry competitors.  A good night was had by all for a worthy cause.
For many years Geest line has been shipping livestock and the latest shipped to Mustique via St Vincent were two fine horses emigrating to the Equestrian Centre on the beautiful island in the Grenadines.
The Equestrian Centre in Mustique already has 11 working horses and 4 retired horses, plus the two new ones Willie and Snoopy.  Mustique has had horses on the island since the 1970s when some home owners imported horses for their personal use.  Over the years the Equestrian Centre has developed into a professionally run stables with two British Horse Society Instructors and trained staff.  They offer pony rides for children aged 2 years and over, pony camps, dressage, jumping lessons and trail rides.  The horses can often be seen taking a well-earned swim in the heat of the Mustique sunshine.
Geest Line uses a dedicated and certified 'Horse Box' (a converted 20 Dry Van) to transport these animals. They are escorted on their journey by a dedicated groom and vet, which doesn't seem to faze the animals at all, as the pictures show: Willie and Snoopy on passage, running free and taking a swim.
The two new horses will undergo a training program to prepare them for their work and they will be integrated into the herd by October 2016.  The Equestrian Centre have used Geest Line on four previous occasions, shipping a total of 9 horses to Mustique.
Geest Line is proud to be associated with the Royal Navy's Merchant Navy liaison scheme. This scheme is in place to give Junior Naval Officers the chance to sail in Merchant vessels in order to build a stronger common understanding between the maritime communities. With four vessels running out of Portsmouth on a weekly basis Geest Line was approached to be part of the scheme by providing berths in their vessels.
Only too pleased to assist, S/Lts Alex Snow and Mark Walker embarked on the 31st May for a round trip:
| | |
| --- | --- |
| 31 May | Portsmouth – Join |
| 1 June | Le' Harve |
| 9 June | Martinique |
| 11 June | St Lucia |
| 12 June | Barbados |
| 13 June | St Vincent |
| 13 June | St Lucia |
| 14 June | Antigua |
| 14 June | San Juan |
| 15/16 June | Dominican Republic – Banana Loading |
| 26 June | Portsmouth – Left |
S/Lt Snow observed 'Clearly, due to the nature of their business, the routine on board differs significantly from that of the RN. With far fewer systems to operate and exercise (eg, weapons, communications, CBRNDC, aircraft etc.) a much smaller crew is required. However, with 150m of upper deck exposed to the weather, not to mention cranes and stacks of containers, there is lots of maintenance to do. During the ocean passage it became clear how much effort is required to keep the ship in an orderly fashion. At one point the Chief Officer (second in command) was seen aloft the main mast conducting ships husbandry. Both of us found this to be a fine example of team work'
Both S/Lts benefited enormously from the scheme, S/Lt Walker observed 'Most notably from the Captain who took a keen and enthusiastic interest in teaching us not just astronavigation, but also other questions pertaining to the safe navigation of his ship. Captain Trimanez was enthusiastic for us to learn celestial navigation long hand without the aid of computer software such as NavPac. To this end we found themselves consulting Nautical Almanac's rather than our computers for the times of sunrise, sunset and MerPass. The Captain also required us to calculate Local Hour Angle of Aries each evening in order to conduct simultaneous sights. This allowed us to use the rapid sight reduction tables to employ the intercept method and find the ship's position. By way of demonstration, the incomparable to Captain Trimanez who was capable of fixing the ship consistently within 3 miles of the ships actual position and plotting it manually before we were finished with our own sights. Something we will never forget'
Both Mark and Alex have now returned to HMS Penzance, which will see them serve in the Middle East. As they left S/Lt Town joined for his trip around the Caribbean curtesy of the Caribbean's leading Shipping Line. Long may our association continue.
Whilst the United Kingdom were deciding the fate of their place within Europe on the 23rd of June, Geest Line was hosting their annual Cocktail party at the Restaurant des Régates Le Havre. This is our chance to thank our French customers for their continued support with our trade lane to the French West Indies, and this year we were joined by our new clients representing interests in Guadeloupe.
The weather was beautiful, as was the setting, making for a most enjoyable evening. We now look forward to a prosperous future, as we continue to connect Europe with the Caribbean.
After the tremendous success of Top Gear in Barbados in 2014, the weekend of the 7 and 8 May saw the inaugural Barbados Festival of Speed. Once again Geest Line was ever present supporting this prestigious event by being the carrier of choice for vehicles from the UK to Bushy Park. This year it was difficult to look into Barbados' world class racing circuit without seeing Geest Line branding.
Geest line is very proud to have been trading in Barbados since 1961. Captain Peter Dixon, Managing Director of Geest Line said  'Due to our long association with Barbados Geest Line is very much viewed as part of the commercial family on the island, as such it is very important to us to continue to support such events which bring the islands and the wider global community together.'
Once again Lewis Hamilton was in attendance with his team, undoubtedly the star of the show he lit up the circuit in Bushy Park with his 2013 F1 car. Also taking part were Monster trucks from the USA and banger cars from the UK. But perhaps the highlight for the younger kart and aspiring F1 drivers was when Lewis took to the track to race against them.