Responding to the announcement of the death of Her Majesty Queen Elizabeth II, Richard Stapleton, general freight manager at Geest Line said:
"We at Geest line are deeply saddened to hear of the death of Her Majesty The Queen. We offer our heartfelt condolences to the Royal Family. We reflect with gratitude and admiration on an extraordinary lifetime of service."
As head of the Commonwealth Her Majesty Queen Elizabeth II travelled more than any monarch in history, visiting every part of Commonwealth family of nations. Between 1971 and 2018, she missed only one Heads of Government Meeting. Her devotion to duty was only matched by her skill as Head of the Commonwealth of Nations, always a generous host and consummate diplomat.
Pictured above is Her Majesty opening the West Indian Banana Growers Research Centre in 1966 with Jana and Lucile Van Geest. The ceremony saw the exchange of ceremonial silver scissors and a Royal Silver coin which remains a treasured possession of the Van Geest family.
Flags on our Geest Line vessels will be being flown at half-mast as a sign of respect.
Geest Line provides reliability for its customers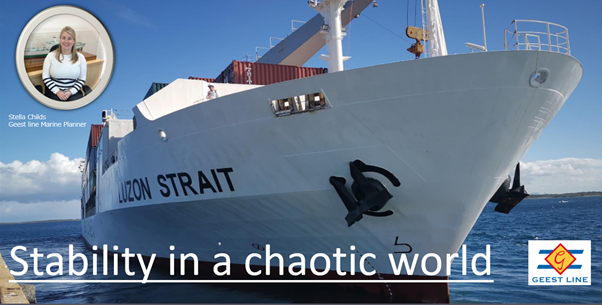 During what has been a chaotic year in shipping, Geest Line has maintained an impressive record for reliability. Geest Line has this week published year to date 100% on day reliability westbound from The Netherlands and the UK to the Caribbean Islands. This compares favorably to the Sea-Intelligence August Global liner report, which shows container line reliability at 33.6% on time, the lowest for over a decade.
Geest line have been shipping essential cargo westbound to the Caribbean Islands for over 65 years. The Islands anecdotally "set their watch" by the arrival of the distinctive Geest Line Vessels and with the shipping world in meltdown Geest Line continues to deliver. General freight manager Richard Stapleton said "Providing our weekly service from Flushing and Portsmouth ensures the Islands receive regular stocks of essential supplies. We ship all manner of commodities from dairy products for the supermarkets, to Bulldozers for construction projects. Our customers are relying on us, and we have not let them down".
Serving the Caribbean Islands is not all plain sailing though. With hurricane season and Island lockdowns due to Covid-19, Geest Line has worked tirelessly to ensure we maintain our schedule. Geest Line Marine planning expert Stella Childs said, "meticulous planning and understanding the trade lane allows us to work closely with the vessel captains and the Island ports to mitigate any obstacles, resulting in on time berthing in the Islands".
Once the cargo is discharged our vessels are used to bring back bananas, which is probably what we are most famous for. Geest Line bring on average 28 million bananas every week for distribution throughout the UK and Europe.
Geest Line are keen to avoid complacency and continue to deliver an excellent service even through the seasonal peaks. Such is demand for space on the vessel westbound to the Islands, Geest Line have been advising its customers to book early to avoid disappointment. "We are expecting a busy run up to Christmas with global travel restrictions being relaxed and the Islands starting to slowly reopen. Booking early ensures space on the vessel and cargo arrives in good time to for the festivities", says Debbie Taylor UK sales executive for Geest line.
Geest Line ship to Barbados, Grenada, St Vincent, St Lucia, Dominica, Antigua, St Kitts, Curacao, and the Dominican Republic direct from The Netherlands and the UK. For a quote or simply more information on our services call our dedicated UK based customer service team on 01489 873500, or email us at [email protected] or visit our website www.geestline.com, it will be our pleasure to help you.