58 riders for the PLANETS London to Paris 24 hour cycle challenge were fuelled to complete the gruelling 300+ kilometre distance by a very generous donation of bananas from Geest Line.
The money raised during the event, in excess of £65000, will be used to pay the next 6 months of instalments in the purchase of an intraoperative radiotherapy machine, which will put Southampton at the forefront of advanced surgical oncology therapies worldwide.
Since April 2016 Geest Line have once again been calling into Guadeloupe on a weekly basis. To cement this new alliance and to boost their presence in the region further we teamed up with our French agency, Madship a subsidiary of NAXCO Group and took a booth at the Caribbean Transport and Logistics Trade Fair (SCTL) 2016 in Martinique.
This was the first event of this dimension in the Greater Caribbean region. It's purpose was to showcase all transport & logistics stakeholders in the Greater Caribbean. In doing so it brought together all the stakeholders in Logistics and Transportation of the region with services including warehousing, freight forwarding, information systems, export/import consulting, infrastructure, advanced logistics and training.
The three days comprised seminars and company/organisation sponsored booths, thereby linking the major operators of maritime and air transport; ports and airports around matters of the region. Providing a meeting place for companies from the French, English and Spanish speaking Caribbean.
Geest line saw this as the perfect opportunity to increase visibility in the Greater Caribbean region, especially the French West Indies.
It was a very successful few days for Geest Line, as we achieved all we set out to by participating in the Trade Fair. We now look forward to working with our partners in the region and enjoying a long and prosperous period.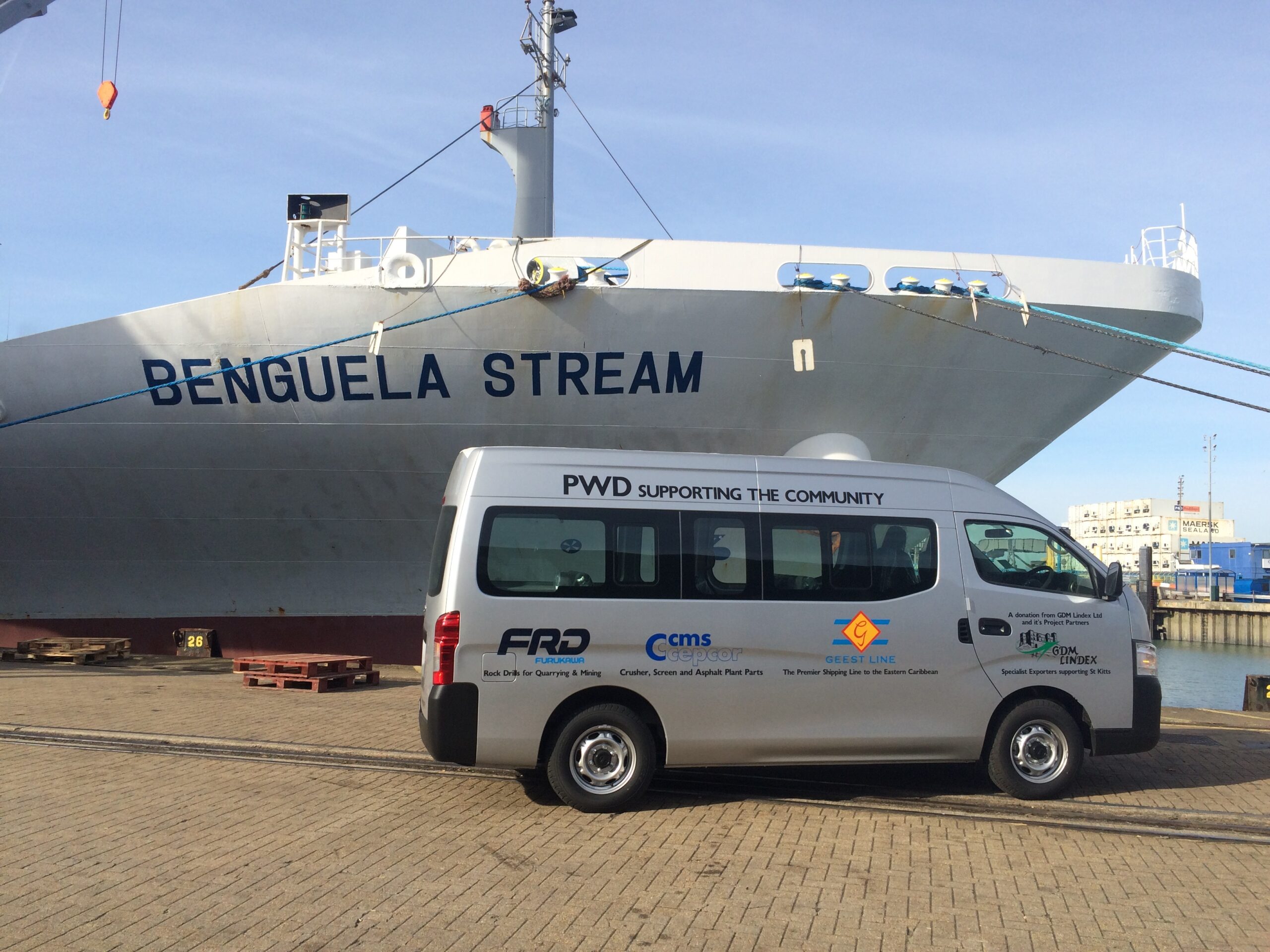 Geest Line are proud to have shipped a Nissan Urvan Microbus 15 to St Kitts to provide transport for staff of the Public Works Department, which continues to do impressive work in the community of St Kitts.
GDM Lindex Ltd was approached by Ms. Bernier of the Public Works Department in St Kitts to sponsor them in providing transport for their workers. GDM Lindex Ltd has been involved with the PWD in St Kitts since 1983 and were only too happy to assist. The obvious shipper of choice was Geest Line, who have been shipping to the Caribbean for GDM Lindex Ltd since 1980. The minibus was loaded in Portsmouth and will arrive in St Kitts on 30th March 2016.
Other companies which have supported the provision of this important transport are FRD Furukawa and CMS Cepcor.
It was a beautifully crisp, clear winter's day as Geest Line and the crew of MV TIMOR STREAM celebrated the vessel's 100th voyage under the Geest Line flag.
It was an especially important occasion as the current Captain, Capt. Dobralskii was also Captain for Timor Stream's first voyage for Geest Line, back in 2008, also on board was Chief Engineer Kopylov who was signing off after a contract the Chief Engineer. Kopylov was on board for Timor's first voyage as Second Engineer, since then he has completed 11 contracts on Timor Stream, four as Chief Engineer.
During Timor's sterling service for Geest Line she has steamed in excess of 770,000 nautical miles, which is equivalent to 35 trips around the world, burning in excess of 33,000 tons of fuel.
Mr Chris Roberts, Geest Line's Financial Director presented the Captain with a plaque to mark this auspicious landmark. He thanked Capt. Dobralskii and his crew for all of their hard work for the company, and wished them well for their forthcoming voyage.
Timor sailed from Portsmouth Tuesday 16 Feb 16 and will fly their special 100th voyage flag into France, Martinique, St Lucia, Barbados, St Vincent, Antigua, St Kitts and Dominican Republic during her 28 day round voyage, returning to Portsmouth 13 Mar 16.
Geest Line received thanks and a Merry Christmas greeting from one of our customers; Topfruit. It was so ingenious I had to share it!
On August 24, 2015, Tropical Storm Erika caused devastating loss of life and destruction of property on the island of Dominica. Geest Line has a long and proud association with this beautiful and resilient country and we would like to convey sincere condolences to the people of Dominica for the heavy toll that the storm has taken.
12 inches of rain fell within in just a 12-hour period, flooding and mudslides washed away infrastructure and property on the island-nation of approximately 72,000 people. Today there are significant numbers of displaced people who have lost their homes, and many communities remain inaccessible as a result of destruction to roads and bridges.
A full assessment of the impact of the storm can be found here https://www.cdema.org/
On behalf of the people of Dominica Geest Line would like to make you aware that it is possible for you to help.
You can send Donations to:
Cash donations can be made to the Red Cross of Dominica (where you can also view more photographs of the distruction) https://www.youcaring.com/red-cross-of-dominica-421257
You can send Goods by shipping them to:
Address: Dominica Red Cross, c/o The Government of Dominica (Commonwealth of Dominica), Roseau, Dominica
Telephone: 767-448–8280
Items most needed are as follows:
Hygiene kits
Bed linens
Mattresses
Water
Diapers state 1-5
Milk
Formula
Wipes
Baby clothes
Shoes
Solar powered lamps
Non-perishable items
Geest Line took the opportunity to support the Saint Lucia National Football Association (SLFA) U17 Football team by way of supplying a full new team kit, the team qualified earlier in the year to the CONCACAF U17 World Cup Qualification Tournament in Honduras.
SLFA qualifying for this tournament was an amazing success, it is the best result the National Football Team has ever achieved in International Competition. Particularly bearing in mind that Saint Lucia has a population of 170,000 and were the smallest team in the tournament, competing against teams like the USA with a population of 300 million, Mexico with 160 million and Canada with 35 million! The second smallest team was Trinidad & Tobago with a population of 1.2 million. SLFA were drawn in a very tough group that included the eventual final winners, Mexico, who beat tournament hosts, Honduras 0-3 in the final. The FIFA U17 World Cup Final will be held in Chile during Oct/Nov 2015 with 24 teams competing for the coveted title, including England, France, Belgium, Germany, Brazil, Russia, South Africa, Australia, New Zealand and Syria (Syria's inclusion is no mean feat given their issues).
The resources of the SLFA and Saint Lucia on the whole are somewhat limited, especially when compared to most of the teams they competed against in Honduras. The SLFA is always on the lookout for assistance from the business community and kind individuals to help with preparing teams for competition and generally running football in the County. "We are extremely grateful to Geest Line for their kind donation".
Geest Line are represented in Saint Lucia by the M&C group through Admiral Shipping. Geest Line is a part of the region in several ways, and for many years the company has been an important part of the economy of Saint Lucia, as the main shipping conduit for the Windward Islands to/from the UK, as well as the key carrier of goods and services from the Europe to other Caribbean Islands.
Here we see the team strip being formally handed over (L to R) Capt. Peter Dixon (MD Geest Line), Vince Noyce (Port Operations Manager Geest Line) & Cyril (Ces) Podd (Technical Director of Football at SLFA).
Ces, himself holds over 500 matches under his belt, as a previous league player in the UK..
During the port call of m/v Klipper Stream at Manzanillo, Dominican Republic Geest Line customer Pedro Soria took the opportunity not only to ensure safe stowage and shipment of his cargo to Europe he also participated in his favourite sport of 'kitesurfing'. As you can see the pictures and stunts are spectacular, with many UK staff being envious and now wanting to take up the sport but not in the UK chilly waters.
Pedro says 'I started kitesurfing 4 years ago when I arrived in the DR, it is an amazing water sport full of physical challenges and a great way to disconnect from work. I am extremely lucky because in the DR I can practice all year around in warm tropical blue waters and steady trade winds. I visited the port to check everything was fine with our shipments and to stay in touch with our local staff. Manzanillo is a windy port because it is located on the north coast with trade winds and thermic effect over the area.
We started our business relationship with Geest back in 2009, the Geest Line service we receive has to be the most reliable shipping line service we have ever come across. Efficiency, professionalism, friendly faces, team work, these words are probably describing at best the Geest Line Team.
Kevin Cool, Geest Line Commercial Manager comments 'Geest Line is similar to Kitesurfing in that we are agile, flexible and a fast moving company – many thanks to Pedro and Top Fruit for their continued support we wish them good luck both on and off the water!..'
Geest Line were privileged to be asked to play their part in the restoration of sugar cane locomotives that were once used in the industry in Antigua.
Lawrence Gameson MD of Thomas Gameson Ltd of Cannock, UK embarked on this project over two years ago and will shortly be completing the renovation of a number of locomotives in Antigua. Please click here to view the attachment to discover more about this project.
As is traditional with Geest Line staff whenever there is an excuse to dress up and raise funds for good causes, you can always rely on members of staff to join in. (more…)