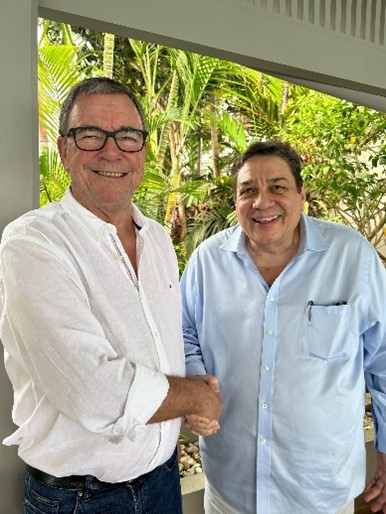 Geest Line is celebrating over five decades of working in partnership with the influential,
knowledgeable, kind and most generous Mr David Harding. From career beginnings as a Master
Stevedore in Barbados David has built a multitude of successful businesses from ship agencies to
stevedoring services. His stevedoring background and experience remains relevant to Geest Line
even today.
David (pictured above with Geest Line MD Captain Peter Dixon) has been a cornerstone of Geest Line's success throughout the decades in the Caribbean. David's support to Geest Line developing our brand has been unquestionable and importantly he has always been willing to offer excellent advice and guidance. David held the post of Chairman at Bridgetown Port for many years and can be credited with a number of successes within that important role alongside his significant contribution to the Caribbean Shipping Association as a past President. He was also privileged to be awarded an MBE for his services in the region.
Chairman and founder of Caribbean International Freight and Logistics David is highly regarded in both Barbados and the UK for being a font of knowledge with a can-do approach to shipping. The partnership with David began in 1972 when Geest Line originally loaded Bananas from the Windward and Leeward Islands. We all appreciate that a lot has changed since then, what has not changed is David's support and commitment.
David's daughter Christina is now taking the reins as Managing Director at Caribbean International Freight and Logistics inc. and following perfectly in her father's footsteps, connecting with the UK, and building strong relationships with the Geest Line team and our customers.
Captain Peter Dixon said "David has been an essential part of the success of Geest Line in developing trade with Barbados for a long period of time. We have developed strong business and personal relationships over very many years. I take great pleasure in congratulating David on this long service and would like to personally thank David for his commitment to Geest Line and support to myself and the team at Geest Line and over the years."